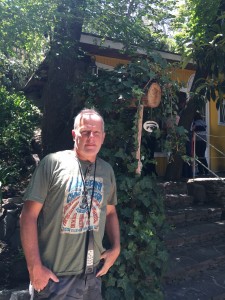 Dave Hoekstra is a Chicago author and radio host. "The Camper Book" is the third of a series of Americana oral histories for Chicago Review Press, following "The Supper Club Book (A Celebration of a Midwest Tradition)" [2013] and "The People's Place (Soul Food Restaurants and Reminiscences From the Civil Rights Era to Today)" [2015]. He has also written books on minor league baseball, the Farm Aid movement and the Chicago White Sox' Disco Demolition event.
Dave was a staff writer and travel columnist at the Chicago Sun-Times between 1985 and 2014. He was a 2013 Studs Terkel Community Media Award Winner. Dave currently hosts "Nocturnal Journal" on Saturdays on WGN-AM 720 in Chicago. He lives in Chicago.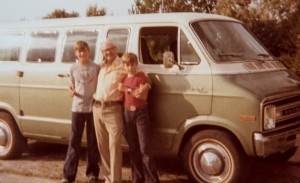 Jon Sall has been a professional photographer for more than 25 years, beginning his career as a photo journalist for the Chicago Sun-Times. He was principal shooter for the CNN Films production of "Chicagoland," an 8-hour documentary series that aired in 2013. He teaches in the Communication and Media innovation department at Columbia College, Chicago.
His love of road trips, camping and photography can be traced back to his youth. Jon and his brother Matt would travel in their Uncle George Robertson's 1977 Plymouth Voyager van for weeks at a time, heading out to Yellowstone, The Grand Canyon, the Great Smoky Mountains and other National Parks. Jon lives in the western suburbs of Chicago with his wife Lisa.
My "Blue Bird" van artwork so graciously contributed by my dear friend Tony Fitzpatrick.
Tony's latest exhibit and companion book "The Secret Birds," (Curbside Splendor) is Tony's collection of work inspired by the iconography of birds. Following a successful quadruple bypass surgery in January 2015, Fitzpatrick muses on mortality and a life spent traveling, collecting, and telling stories. His  work is collected by the Museum of Modern Art, the Museum of Contemporary Art in Chicago, and the National Museum of American Art in Washington, DC. Before making a living as an artist, Fitzpatrick worked as a radio host, bartender, boxer, construction worker, and film and stage actor.
Tony is a White Sox fan and one hell of a raconteur.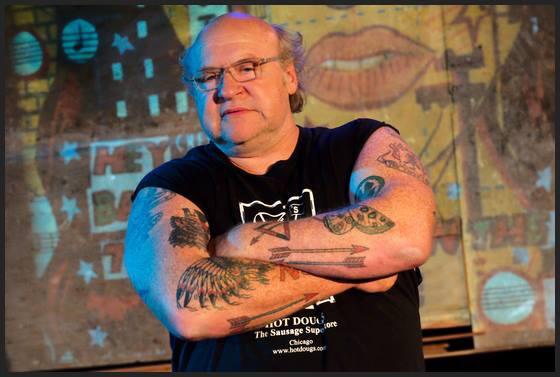 Prime Time 2015 Ford Transit Cargo Van 9 x 20′ converted by Prime-Time, SV, Elkhart, Ind. and purchased from Joe Rizza Ford, Orland Park. Special thanks to my salesman and counselor Tom O'Neill of Joe Rizza Ford.
Van detailing and sign magnets by Vernon & Maz. Monee, Il.
Website designed and maintained by Nick Kam.